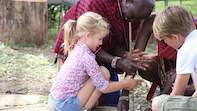 Kichwa Tembo Tented Camp welcomes children on safari.
If you want your family to experience the ultimate safari destination in the world, witness amazing natural beauty and learn a different culture from one of the tribes, Kenya is the place to be.
Witness the awe inspiring herds in the Masai Mara
Take a dhow trip to lamu Island
Enjoy pristine beaches of Mombasa and Diani
Get to Dine at the Carnivore Restaurant in Nairobi
Kenya is a wonderful place to take children on a family holiday and introduce them to the amazing wildlife and vibrant cultures of Africa.
Many parents think of a beach holiday when planning a family holiday, yet a safari can be a great option. Have they seen the movie Madagascar: Escape to Africa? Well let them come and experience 'the wild'. Safaris can be a wonderful way for families to spend quality time together.
Why Take Kids on Safari?
A family holiday is a wonderful way to broaden your child's horizons. Most children are naturally curious, and travelling introduces them to new cultures, allows them to meet different people and can introduce them to history. Let them come and see the amazing wildlife of the African bush and you may awaken a budding conservationist.
Best Ages for Kids to go on Safari
So many of the packages and itineraries you will read have age restrictions such as no children under the age of 12 or even 8. Yet, it is possible to travel with smaller children.
This is primarily out of concerns for the other guests and safety of your children. As a general rule of thumb, children between the ages of 1 and 3 years are not a good idea on safari - they are not old enough to appreciate it.
Where to Go on a Family Safari
Choose to stay at lodges that do accept small children such as Malu Farm, Sarova Lion Hill Game Lodge or contact one of our Destination Specialists and ask their advice on many other camps that are great for families.
What about Dangerous Wild Animals?
Yes, there are dangerous animals, but all the camps and lodges have strict safety rules and regulations in place for your safety. Many of the family camps are surrounded by an electric fence or are fenced. Others request that you do not stray off pathways, and many camps will have staff who will guide you when walking around camp, especially after dark.
What activities are there for children?
Some of the lodges offer special activities for children such as archery or walking safaris within the safety of the camp. During these nature walks they will learn about bugs and birds and all the things that fascinate them, and questions are encouraged.
Health: Malaria
All travellers to Africa should get reliable, careful and professional advice on health safety before deciding on their destination. Please note that Kenya is a Malaria region but if the correct procedures and medication is taken, there is no reason why you and your family cannot enjoy this amazing country.
Guests should make sure that anti malarial drugs are taken and your medical advisor should be able to recommend the ideal drug suited to you and your family. Other basic preventative measures that can be taken while in Kenya include wearing long sleeved shirts, pants, socks and pyjamas in the evening, using insect repellent and using mosquito nets.
If all these rules are followed, you and your family can enjoy a memorable visit to a rich, diverse and mesmerizing country.
by Michael English