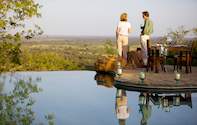 George and Joy Adamson released Elsa the Lioness into the wild, the story made famous in the film 'Born Free'.
Romantic accommodation with great views
Enjoy birding in Meru National Park, Kenya
Guided walks through the bush
See the elusive Leopard and Greater Kudu
Meru is an untamed expanse, for many years the best kept secret amongst travellers passionate about beauty, peace and true wilderness. On a guided walk, you become aware of underground dwellers, amazing insect life with sophisticated rites and rituals.
You follow the fresh tracks of animals, then suddenly you're standing very still, watching a Lesser Kudu watching you, or Giraffe testing the air only yards away from you and your guide. Meru is famous for its birdlife. Riverine and forest species as well as the arid country species.
Regular sightings include: Elephant, White Rhino, Oryx, Gerenuk, Grevys Zebra, Reticulated Giraffe, Greater and Lesser Kudu and their predators: Lion, Leopard, Cheetah and Hyena. For many years Kenya's best kept secret, the untamed wilderness of Meru National Park is best explored from its hidden jewel - Elsa's Kopje.
Made famous by the film 'Born Free' and George Adamsons Lions, the lodge is invisible to the eye as you approach the kopje. Each of the 9 individually built cottages of this Kenya accommodation are luxuriously appointed, and here you'll find the ultimate 'room with a view'.