Spend 5 days in a romantic beachside hideaway with private access to the shores of the Mnemba Island during this premier holiday package to the idyllic Zanzibar.
Romantic Zanzibar Holiday Package Highlights
Accommodation: En-suite banda accommodation with private beach access
Activities: A wide variety of water sports including snorkeling and dhow cruises
Destinations: Zanzibar North Coast
What to expect on this Zanzibar holiday package in Tanzania
Spend some quality time with your special someone during this 5 day hideaway on the shores of the Mnemba Island in Zanzibar. The private island provides an ideal setting for a secluded stay in paradise as the shores are only shared with 20 other guests. The exclusivity of Mnemba Island Lodge allows you to rewind as you take a barefoot stroll along the golden beach strip.
Your en-suite banda will lead you out onto an exclusive beach strip where you can explore the sun-kissed sands. A private veranda connects your banda to views of the endless ocean views. Relax in the views of your pristine surroundings.
Explore the landscapes and waters of the Mnemba Island waters as you partake in two activities per day during your stay at the lodge. Your choice of activities includes snorkeling in the crystal waters of the Indian Ocean, fly-fishing and a sundowner dhow cruise, to mention a few.
Day 1: Travel to Mnemba Island in Zanzibar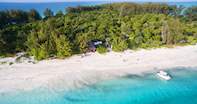 A shared road transfer will transport you from Zanzibar Airport to the island crossing point where you will board a boat that will take you to Mnemba Island Lodge. The lodge will accommodate you for the duration of your 4 night stay on the island that enjoys a position off the north eastern tip of the Zanzibar spice island. Your palm-leaf beach banda spoils you with your own private stretch of beachfront right outside your door.

Your private veranda will lead you out into views of the ocean. The warm tropical nights serve as an opportune time to dine alfresco during an arranged private beach dinner, in full view of the starry sky above as the waves casually wash your feet. Enjoy the perfect combination of moonlight and subtle candlelight as you indulge in local cuisine and enjoy the romantic setting for two.
Day 2 - 4: Soak up the Zanzibar sun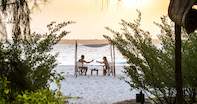 Two water-based activities can be enjoyed per day during your stay at the lodge. Choose from snorkeling, kayaking, fly-fishing, a sundowner dhow cruise and windsurfing. Swimming, nature walks and bird watching are leisurely activities that can be enjoyed in between your planned excursions. Additional activities offered include scuba diving and deep sea fishing trips for extremists who hope to maximize their stay on Zanzibar's pristine coastline. Internationally recognized, Zanzibar is a sanctuary of tranquility and breathtaking views. The Mnemba atoll is a scuba diver's paradise, providing possible encounters with a large variety of sea creatures.

Watch the start of a new life as you witness the magnificent turtle hatching season from April to August. Mnemba Island is surrounded by coral reef that and the marine species that occupy the waters of the reefs and the greater area of the Indian Ocean include reef fish, anemone, pelagic fish and marine mammals such as dolphins, sharks, humpback whales and various types of ray. Many bird species can be sighted during walks around the island.
Day 5: Say farewell to Island life
After breakfast a boat transfer takes you to the Island crossing point. There, you will meet a representative who will drive you to Zanzibar Airport for your onward journey.
Included
4 nights' accommodation at selected lodge as detailed in your itinerary
Boat transfers to and from your lodges
Road Transfers to and from Boat pick up point and Airport
Select local branded drinks including bottled water, soft drinks, beers, spirits & liquors and house wines
All meals while travelling including breakfast, lunch and dinner
Watersports including Scuba diving, snorkeling and sundowner Dhow Cruise
Park and conservation fees
Daily laundry service
Medical evacuation cover to the nearest treatment centre within Tanzania
Not Included
International flights to and from Tanzania (Kilimanjaro International Airport)
Optional activities not listed above
Travel insurance
Premium drinks (champagnes, cognacs, single malt whiskeys and wines from exclusive cellar wines)