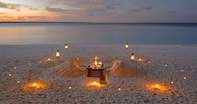 © Stevie Mann
Experience the Romance of East Africa on this luxury Tanzania safari which visits the wildlife-rich Serengeti National Park, the spectacular Ngorongoro Crater and a spicy stay on the island of Zanzibar.
Highlights:
Intimate game-viewing experience in the Serengeti National Park
Magnificent views of Ngorongoro Crater from your romantic suite
White beach and candlelit diners on the shoreline of Mnemba Island
Day 1 - 3: Serengeti National Park
Upon your arrival at Arusha Airport you will be met by a Representative who will assist you in boarding your scheduled flight to Klein's Airstrip. Your flight departs at 08:45 in the morning and 14:30 in the afternoon. A short game-drive will bring you to camp.
Tanzania is synonymous with the Serengeti National Park and its famed Wildebeest and Zebra migration. On the northeastern border of this National Park is a 10 000 hectare private concession, land that, historically, was given to a park warden by the Maasai as thanks for his dedication. Within this concession, perched on the edge of the Kuka Hills, affording breathtaking views, is Klein's Camp. Ten intimate cottages of local rock and thatch each have en-suite shower, twin hand basins and w.c. and a private terrace overlooking the valley below.
The rooms have rich wooden floors and the light coloured fabrics make the interiors cool and serene. The dining room boasts a large open fireplace and a short walk from there is the large bar/lounge area, which has a central fireplace and is beautifully furnished. Both these areas have a sweeping view of the valley and its surrounding hills. A swimming pool with leisure deck is tucked into the hillside. A curio shop stocked with locally made Maasai craft can be found near the Reception area.
Three overnights at Klein's Camp in a thatched cottage with en-suite hand basins, shower and w/c. Accommodation is on a full board basis including scheduled activities. Activities include game-drives and nature walks in the Klein's Camp private concession. The afternoon game-drives extend after sunset with the aid of a spotlight, returning to the camp after dark.
Days 4 & 5: Ngorongoro Crater Conservation Area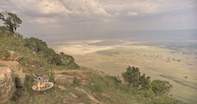 Enjoy an early morning game-drive and breakfast before your scheduled flight to Manyara Airstrip. A representative from Ngorongoro Crater Lodge will meet you for your transfer, 2 hours and 30 minutes, to the lodge.
At the eastern edge of the Serengeti, and nearly three million years old, the ancient caldera of the once-volcanic Ngorongoro shelters the most beautiful wildlife haven left on earth. Perched on the edge of the ancient crater rim, the architectural masterpiece of the Ngorongoro Crater Lodge is a magnificent return to the noble elegance of the travelling colonials. Inspired in design by the Masai manyatta, three separate camps remember a bygone era.
The lodge is composed of separate camps, each consisting of just 6 to 12 suites. Each sumptuous suite is discreetly tended by a personal butler, who will bring you tea in bed, stoke your fireplace and even draw your bath, scattering the water with rose petals, ready for your return from your safari and lavish picnic on the crater floor. Under the soaring banana thatch roof, suede, velvet, silk and taffeta establish the decadence of the bedroom while Zanzibari carving and chandeliers (hand-made by the Maasai) float above a central stone-clad bath.
All of this however, remains subordinate to the magnificence of the verdant crater that pours through the window of every room. The three intimate camps at Ngorongoro Crater Lodge are totally private ensuring ultimate guest exclusivity. The public areas at each of the camps have awe-inspiring views of the crater below and beyond and include a central dining area, lounge and curio shop.
An outdoor dining and/or viewing deck has been suspended seemingly above the crater rim and captures the renowned breathtaking African sunsets over the crater. Each of the lounges has a wonderful selection of books and wildlife magazines. Activities include scheduled morning or afternoon game drives in the Ngorongoro Crater in closed game viewing vehicles. Additional activities available at and additional cost and subject to availability of vehicles include visits to Olduvai Gorge, Shifting Sands or a Maasai village.
Two overnights at Ngorongoro Crater Lodge in a luxury double suite with en-suite hand basins, bath, shower and private w/c. Each suite is tended by a butler. Accommodation is on a full board basis including scheduled activities.
Days 6 - 9: Mnemba Island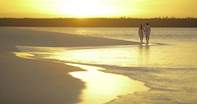 ©Stevie Mann
Enjoy an early morning breakfast. Transfer to Manyara Airstrip for your scheduled flight to Arusha Airport. Upon arrival you connect onto your scheduled flight to Zanzibar Airport where you will be met by a representative from Mnemba Island for your road and boat transfer, 1 hour and 45 minutes, to the lodge.
The name Zanzibar conjures up heady aromas of cloves, cinnamon and other exotic spices and images of dhows with billowing sails carrying vibrant cotton cloths crossing the Indian Ocean. A 45-minute drive from Zanzibar Airport or Stone Town brings one to a deserted beach from where an open ski boat transfers one to the Mnemba Island beach, some 20 minutes northeast of Zanzibar. The private Mnemba Island is 1.5km in circumference and is surrounded by coral reef.
Ten ' Banda', built of indigenous woven palm matting with palm leaves used as thatch, have direct access onto the white sandy beaches. The 'Bandas' have adjacent facilities of hot and cold-water showers, w.c. and hand basin, ceiling fans and a spacious outdoor verandah. The guest areas are all open-sided and comprise of dining room and lounge/bar area with a small library that has books, games and magazines.
The atmosphere is relaxed and informal. Sun loungers are placed on the beach in front of each 'Banda' from where guests can enjoy snorkelling, windsurfing, kayaking and scuba diving. Between December and May is turtle season when these pre-historic creatures can be seen in the water and on the beaches. Deep-sea fishing and diving courses are available at additional cost. A walk around the island reveals a variety of sea birds whilst snorkelling amongst the coral reefs introduces one to the magnificent colourful aquatic world. Mnemba Island is closed annually from 1st April to 31st May inclusive.
Four overnights at Mnemba Island Lodge in a 'banda', built of indigenous woven palm matting with palm leaves used as thatch with private adjacent facilities. Accommodation is on a full board basis including scheduled activities.
Day 10: Zanzibar
At leisure until your boat and road transfer to Zanzibar Airport where services end.
Included
Twin or single accommodation
Meals on a full board basis at Klein's Camp, Ngorongoro Crater Lodge and Mnemba Island
Teas, coffees, soft drinks, local beers, local brand spirits and house wines at Klein's Camp, Ngorongoro Crater Lodge and Mnemba Island
Laundry at Klein's Camp, Ngorongoro Crater Lodge and Mnemba Island
Personal butler service at Ngorongoro Crater Lodge only
Scheduled domestic flights: Arusha Airport / Klein's Airstrip / Manyara Airstrip / Arusha Airport / Zanzibar Airport
Scheduled transfers: Zanzibar Airport / Mnemba Island / Zanzibar Airport
Scheduled game activities as specified
Tanzania National Park fees and Klein's Camp conservancy fees
Domestic departure tax, currently USD 6.00 per person, from Arusha Airport and Manyara Airstrip
Emergency medical evacuation insurance
Not Included
Meals and drinks not specified above
Diving instruction and deep-sea fishing at Mnemba Island
Sightseeing and excursions in and around Zanzibar
Flights to Arusha Airport (day 1) and from Zanzibar Airport (day 10)