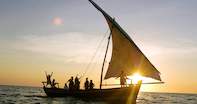 Extend your safari to include this romantic Zanzibar safari excursion that offers a diverse look at Zanzibar Island. Visit Stone Town, relax at wonderful beaches, enjoy exquisite cuisine and exotic spices or go on a sunset dhow trip.
Expected Zanzibar Safari Experience:
Accommodation: Hotels, beach lodges
Activities: Stone Town tours, Coral Reefs, culture & markets, Spice Tour, optional boat trips and swimming with Dolphines, water activities
Destinations: Stone Town, Nungwi Beach
Day 1: Stone Town, Zanzibar, Tanzania
Today you will fly to the tropical island of Zanzibar, the spice capital of the world. Enjoy a romantic stay at this beautiful island that has it all, from coral reefs to deserted beaches, colorful locals to ancient architecture and African markets to westernized shopping.
You and your darling will be transferred from the airport to your Zanzibar safari accommodation in Stone Town. This day of your Zanzibar safari will be spent at leisure exploring the many mazes of the alley ways that Stone Town has to offer. You will be staying in the heart of town with everything at your fingertips. Optional activities on this Zanzibar tour: Jozani Forest and swimming with Dolphins.
Day 2: Spice Tour, Zanzibar, Tanzania
Today will be spent with a guide taking you around the many sights of Stone Town. You will go on a Spice Tour, which will include visiting a Spice plantation where you will get to taste the spices.
You both will also visit The House Of Wonders and the slave chambers on this Zanzibar tour. After the tour you will be transferred to the north of the island to beautiful Nungwi beach. Take a wonderful sunset stroll on the beach before settling down in your romantic accommodation close to the beach. Enjoy breakfast the next morning.
Days 3 - 4: Nungwi Beach, Zanzibar, Tanzania
Nungwi Beach is a touch of paradise, with beautiful white beaches and crystal clear water. There are numerous things to do here or you can choose just to relax in romantic island style and enjoy the warmth of the Indian Ocean. Restaurants, bars and shops are all within walking distance during your Zanzibar tour.
Optional activities on this Zanzibar safari include scuba diving, snorkeling, fishing and sailing trips. Breakfast is included.
Day 5: Stone Town, Zanzibar, Tanzania
After a few relaxing days on the beach and enough time for romance, you both will get transferred back to Stone Town to spend your last night on this beautiful island. Use the time on your Zanzibar safari to catch up on last-minute shopping or any activities you did not have time for on the first day. Breakfast is included.
Day 6: Depart Zanzibar
Sadly, you have to leave this paradise today. Enjoy breakfast and prepare yourself for the transfer to the airport and your flight back to the mainland. Your memories of this romantic Zanzibar safari will last forever.