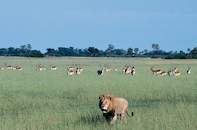 In a time before the carving up of the African mainland by European colonialists wildlife roamed freely across the continent, in rhythm with the seasons, and controlled only by the availability of water and food.
With the arrival of the colonialist the land was fenced and agricultural development ensured that freedom of movement was a thing of the past - and animal numbers plummeted.
Game reserves were established to protect the fast-disappearing wildlife and today these reserves will often have a river as a focal point. Whereas in the past wildlife followed food and water, the new parks ensured that wildlife stayed within parameters, and rivers became dry season refuges.
Gathering of the Wildlife
In wildlife areas today the general trend is for animals to spread out over wider areas during the rainy season as there is surface water everywhere and the vegetation has recovered enough to provide sufficient food but as the dry season heightens the surface water dries up, meaning the animals have to move to areas of permanent water - and this is more often than not a river.
Some of the rivers in Africa that provide havens for wildlife include the Ewaso Ngiro that flows through Samburu National Reserve and Buffalo Springs in Northern Kenya, the Great Ruaha and Rufiji in Tanzania that flow through Ruaha National Park and Selous Game Reserve respectively, the Zambezi with its tributaries, Luangwa and Kafue in Zambia and the Chobe and Linyanti in Botswana.
All the afore-mentioned rivers are the sole source of water in the dry season for the wilderness areas they flow through and in turn ensure huge concentrations of animals along their banks and floodplains.
African Rivers and Human Conflict and Development
Aside from colonialism, or maybe as a result of it, some of the rivers of Africa have been the targets of gross violations and at times bitter conflicts. The Great Ruaha River in Tanzania has suffered due to badly managed rice cultivation schemes in the upper parts of the river, causing the river to cease flowing during the dry months, something which never happened historically.
The great Elephant concentrations on the Chobe River in Botswana were due mostly to the protracted war of independence in Namibia, where the Elephants were slaughtered in there tens of thousands by the warring armies. Instead of crossing into Namibia the Elephants learnt that their safety lay on the Botswana side and as such concentrated on the river in the dry season. This is changing with peace having returned to Namibia.
A similar situation as in Chobe was happening on the Linyanti in Botswana - but with the added danger of trophy hunting on the Botswana side keeping the Elephants wary of the area. The past few years however has seen Elephants return in numbers with the cessation of hunting in the area.