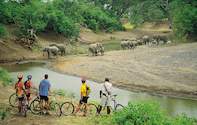 Ancient deserts, expansive stands of virgin rainforest, death-defying downhills swooping from high plateaus and savanna plains teeming with herds of antelope. .. does this not sound like mountainbiking heaven? Jacques Marais highlights five mountainbiking adventures awaiting those who dare venture into the African hinterland.
Flip through the pages of just about any overseas off-road cycling mag and you might get the idea that Africa does not exist as far as the international brotherhood of knobbly goes. An in-depth search might unearth the occasional piece on Ethiopia here and the odd mention of Kenya there, but nothing you are really able to sink your front suspension into.
I say it's time to stand proud and say it out loud - forget the slopes above Boulder, screw those trans-Alps trails and boo to the gentle meanders of the South Downs Way. The Mother Continent offers a gnarly cocktail of dirt and vert stretching from the tempestuous Cape of Storms to the azure Straits of Gibraltar ... and it is waiting to be discovered.
Sure, there are a few risks to keep in mind (when we say snakebite, we're talking reptilian venom and not a flat wheel), but this is way better than dying of boredom or being taken out in the traffic. The time has come to distance yourself from the rest of those first world freak brothers, so get the funk into Africa and engage with Mother Earth in a bout of knobbly backscratch.
Coastal Cruising in Ghana
Crank across the equator to where the pregnant belly of West-Africa bulges out into the chop of the Gulf of Guinea, shaping an exciting collection of countries rich in history and bursting with tradition. Situated centrally along the east-west coastline lies Ghana, languishing in the steamy embrace of the tropics where it huddles snugly between the Ivory Coast, Burkina Faso and Togo.
Formerly known as the Gold Coast, this erstwhile kingdom of the Ga and Ashante dynasties rates as a true "Africa for Beginners" destination, boasting a burgeoning bicycling culture to boot. Roughly the size of the UK, Ghana has a reasonable infrastructure (smaller potholes than in many other African countries), especially along the balmy coast.
Inland from these golden beaches, the low-lying coastal plateau is for the most part covered in lush rainforest which fades into arid savanna as you journey north towards the barren wastes of the encroaching Sahara desert. These days Ghana is very much on the established SAA flight route, with weekly connections between Johannesburg and Accra - contact the Ghana Embassy in Pretoria on telephone (012) 342 5847 for information.
Route Description
The flat landscape of this low-lying country lends itself emphatically to the joys of long-distance cycle touring, with a network of secondary dirt roads spiderwebbing outwards from the main coastal highway. We escaped Accra's chaotic urban traffic to crank into the relative tranquillity of the rural heartland, cycling past pagan villages gracing an endless succession of inlets and bays shimmering along the Atlantic ocean.
Our first night on the road was spent in the Apam harbour village where we bunked down on the bare concrete floor of a slave cell dating back to 1679, waking up to the spectacle of a beach bustling with the frenzied activity and local colour inherent to an African fisher community. After a leisurely breakfast, we set off on the long trek to Mankessim, where we were lucky enough to meet the local Queen Mother who graciously gave us permission to pitch our tents in one of her expansive mielie fields.
Friendly smiles and heartwarming hospitality followed us as we traversed the coast during our 240km odyssey, stopping off at the bizarre posuban shrines of Saltpond before coasting across the muddy Kakum River Elmina, our eventual destination. The camp was duly pitched at the Coconut Grove Beach Resort where we soaked our tired bodies in sparkling pools, revelling in the history of this historic Ashante settlement with its ancient castles, colourful kente cloth and riotous pirogue harbour.
Important Info
Best Time of year: Dry season is generally between October and March
Configuration: One-way Cycle Tour
Distance: Around 240km
Entrance Fee: Akwaaba! No charge, white man...!
Gradient: Mostly level with a few low-intensity climbs
Grading: A moderate ride (depending on distance per day, of course)
Ride: From the edge of Accra to Elmina
Surface: Narrow (and dangerous) tarmac plus good gravel roads
Time in the Saddle: Around six hours per day on a fully-loaded bike
Rainforest Riding in Uganda
Say goodbye to Africa's dry-as-dust depiction by losing yourself in the moist and fertile woodland world of the Rift Valley. Uganda, once considered Africa's most dangerous destination, has prospered under stable leadership for more than two decades and is fast regaining its cachet as one of the continent's preferred backpacker hangouts.
From the glacial peaks of the Rwenzoris to the lowland forests cradling the mighty Nile, this is a country that will entice every outdoor adventurer with a range of charms including everything from ice-climbing to white-water rafting. Mountainbiking opportunities abound and Mabira Forest is just one of the many exciting and accessible off-road riding spots - get hold of co-ordinator Jennifer Vigano at the Mabira Community Centre.
Route Description
Mabira comprises a protected little section of primary rainforest in close proximity to Kampala, offering mountain bikers more than 200km2 of deep-jade jungle to disappear into. A community-based tourism group rents out mountain bikes at the cosy campsite from where a lazy loop trail dips down into the fecundity of a forest alive with Ross' Touracos, grey-cheeked mangabey monkeys and Bare-faced Go-away birds. A steep, two kilometre crank along a marshy trail ascends from the community centre, bisecting rural village fields crammed with yams, cassava and matooki before you descend into the emerald shade of the emergent forest.
Muddy footpaths do a frantic single-track dance in between looming forest giants until you again hit a jeep track traversing farming fields towards the Mabira Secondary School. By now you will be completely lost (or delirious), so best ask one of the locals for directions before blasting your way back to the campsite through one of the customary afternoon thunderstorms.
Important Info
Best Time of year: Two rainy seasons, from Sept to Nov and March to May
Configuration: Errmm... got a bit lost, but I think there's a loop there. ..
Distance: Unlimited options, starting off around 14km
Entrance Fee: An Entrance Fee of R30 plus Bike Hire at around R50 for three hours
Gradient: Moderate climbs made difficult by lack of traction
Grading: Taxing; expect to get very dirty
Ride: From Mabira Community Centre, past the secondary school and back
Surface: Mud, gunge, sludge, mire, muck, swamp...
Time in the Saddle: Three hours plus
Desert Tripping in Namibia
Get high on the grandeur of the rough-edged rockscape of the Namib-Naukluft, the oldest desert in the world. Although Namibia is rated as a safe off-road cycling destination, the huge distances between towns, harsh temperature extremes and sandy surfaces can make for demanding riding. Only attempt the ultra-distance rides if you are properly kitted out for a desert environment, preferably doing so with a back-up vehicle in attendance.
The flat, gravel roads of the Damaraland plains near Usakos is a good starting point from which to explore the strange landscape of this sparsely populated country. More information on general travel in the desert is available from the well-organised Namibia Tourism Association on Telephone (09264-61) 284 2178.
Route Description
Surreal scenery abounds along the tarmac desert highway connecting Usakos to the coastal town of Swakopmund. Pedal off on an early morning start until you reach the turn-off to Uis Mine, following this good gravel road until you again turn off towards the bizarre granite inselbergs known as Spitzkoppe. Overnight at the basic campsites scattered around these towering amber domes before gritting your teeth along a hard grind to Uis (most cyclists might prefer to do this section over two days).
From this remote mining outpost, head north along the road to Khorixas before turning left and left again towards the imposing Brandberg (camping is possible, but you need to be largely self-sufficient). Outback exploration is the name of the game in the shadow of this majestic mountain towering nearly 2600 metres from the arid plains, and a hike to the famous White Lady rock painting is a not too be missed.
Important Info
Best Time of year: Opt for the cooler months from May to August
Configuration: A testing, one-way slog
Distance: Just shy of 200km, depending on detours along the way
Entrance Fee: Entrance Fees are payable at Spitzkoppe and Brandberg
Gradient: More up than down, although ascents are generally moderate
Grading: A difficult ride; dangerous if you do not constantly hydrate
Ride: From Usakos, past Spitzkoppe and Uis Mine to Brandberg
Surface: Gravel roads, with good surfaces; occasional sections of sand
Time in the Saddle: Three to four days, depending on your level of fitness
Zooming Down Zomba in Malawi
This gem of a country, centrally located in Southern Africa, offers three unbeatable mountainbiking options to those prepared to venture off the beaten track. Crank into the rolling savanna hills for a bout of pedal-powered game viewing in stunning Nyika, Malawi's oldest national park which is situated in the northern part of the country.
Otherwise head to Mount Mulanje in the southeast to explore a tranquil highland wilderness resplendent with awesome jeep tracks and footpaths meandering through tea plantations. A third off-road riding paradise worth mentioning is Zomba plateau, a destination easily accessible from both Blantyre and Lilongwe. Lake Malawi's shoreline also offers leisurely two-wheel tripping along what must be the most beautiful body of inland water on the planet.
Malawi is generally a safe cycling destination, although care should taken (as in any African country) on the manic roads where drivers will show scant respect for cyclists. Petty theft may also be a problem in many poor countries, so keep an eye on your belongings at all times. Contact Malawi's High Commission in Johannesburg, South Africa on telephone (011) 339 1569 for the latest travel information.
Route Description
Click into granny gear mode along a steep, eight kilometre switchback climbing skywards from Zomba Town to the tranquillity of Forest Campsite, situated close to the up-market Ku-Chawe Inn. Either of these accommodation establishments may be used as a base (obviously depending on your personal budget) from which to explore the many trails radiating out along the Zomba Plateau. Slip-slide along single-track footpaths into a world where mist swirls around towering peaks blanketed in swathes of indigenous montane woodland.
A circular route from the campsite kicks off into a stiff climb towards Malumbe Peak before the terrain levels out. Enjoy a leisurely meander past Emperor's and Queen's Viewpoints or detour towards the serenity of Chagwa Dam where you can lie back and unwind in the shade of swishing tree ferns while bright butterflies dart around in the dappled afternoon sunlight. The road surface is generally quite good, but sudden thunderstorms, logging trucks and tractors might get in the way when the downhills finally kick in on the way back to the campsite.
Important Info
Best Time of year: Miss the heavy summer rains from October to early April
Configuration: A circular mountain ride
Distance: Approx. 26km, depending on which route options you take
Entrance Fee: A small camping fee will let you ride to your heart's content
Gradient: Did I mention hectic climbing?
Grading: Hectic climbing along beautiful mountain trails
Ride: Forest Camp to Malumbe Peak and back along Potato Track
Surface: Logging roads and helter-skelter footpaths, watch for logs
Time in the Saddle: Make a day of it, picnick at Emperor's View or Chagwa Dam
Highlands Meander Through Madagascar
And finally, to close the chapter on this handful of African rides, we look east across the Indian Ocean to where a huge red island swelters beyond the Mozambique channel. More continent than actual island, Madagascar stretches nearly 2000km from north to south, encompassing a complex conglomeration of diverse ecosystems and bizarre vegetation zones. Expect everything from the jade glow of rainforests near Ranomafana, a deciduous woodland mix around Zombitse, paradise islands dotted along the tropical coast and a profusion of spiny plants spiking the arid Androy desert.
Route Description
'Start off from the Hotel Dera grounds (a safe place to pitch your tents or leave personal kit), circumventing the blue waters of the beautiful Lac Andraikiba. This leisurely 5km ride along a lakeshore lined with gnarled podocarpus yellowwoods will get you in the mood before you ascend into the surrounding countryside along roads coated in blood-orange dust. Meander through rural villages reminiscent of Mexico, taking the occasional breather (a good spot is a little hotely at the village sprawling just below Lac Tritriva).
A straight line route follows country roads for a dusty 12km, but many a turn-off will beckon in a landscape resplendent with tiered rice paddies, ancient burial tombs and medieval villages. If you do not have your own bike, a day rental will set you back around R50, while you will have to scrounge together R10 per person for entry to the azure volcanic crater lake.
Important Info
Best Time of year: Avoid the rainy season which peaks between Nov to April
Configuration: Return route with a circular component
Distance: Approximately 34km
Entrance Fee: No ride fee, a few Francs for entrance to the lake
Gradient: Constant up & down, especially during climb towards Tritriva
Grading: A leisurely ride to be enjoyed by moderately fit riders
Ride: Around Lac Andraikiba, on to Lac Tritriva and back
Surface: Good quality gravel roads with some sand around Andraikiba
Time in the Saddle: Four to five hours, including a swim in Lac Tritriva
By Jacques Marais