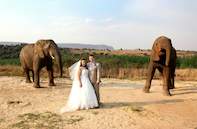 Wedding at Askari Game Lodge.
There can be no wilder continent than Africa, to choose for your honeymoon. It captured our heart and it will yours. Find the best destination wedding safari locations in Africa.
Where does your African wedding fantasy take you?
Scenic Seclusion in far away African places. Escape to a luxurious safari lodge with absolute privacy. Bubble Bath in the bush; sleep under the stars; let Africa's wildlife be part of your special day. Destination weddings have become popular because of the way that your wedding ceremony and honeymoon venue can be combined in a unique way.
You can exchange vows and celebrate with friends and family in a picturesque location away from home. Africa offers Adventure, Fun, Romance, Insight, Culture and memorable African sunsets.
If you want to feel the power of Victoria Falls travel to Zambia. If you want to live like sultans escape to Zanzibar. Southern Africa has it all.
Bush and Beach
Have your wedding in the bush and enjoy nights under the African stars. Afterwards, take your private honeymoon to some far away romantic African island. Get the best of of both experiences on Bush and Beach Honeymoons.
All these honeymoon safari ideas can be personalized. let our Destination Specialists know what destinations you are interested in combining your safari honeymoon with - Mozambique, Mauritius, Seychelles, and they will create a romantic package just for you and your loved one.
Honeymoon Inspirations
The cake is cut and the knot is tied. Now is the time for you to enjoy and celebrate on your honeymoon in Africa. A time for revelation and togetherness, it is time to relax and be pampered. Now you are the guests and you want the very best.
Africa has the secrets. All this can be encountered in Africa. From the beaches or winelands of Cape Town to the tree tops in Kenya you, the honeymooners, can experience love in its most idyllic form. Feel the warmth of true African hospitality.
Under African Skies
Your wedding and honeymoon are the most special time of your new lives together and we want you to be romanced under the African skies. We can arrange every detail of your personally designed wedding and honeymoon in Africa - from the rose petals on the bed to the romantic sunset dinners on the beach.