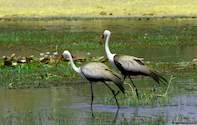 There are many places in Africa where you can see 100 bird species before breakfast - but be prepared to wait much longer for those 'hard-to-see forest skulkers'.
1. Tendaba Camp, The Gambia
For the birds: A mixture of habitats along the Gambia River.
For the birders: About 150km along the Gambia River, well away from the coastal tourist areas, Tendaba Camp provides an excellent base for birding. The Gambia River is easily explored by boat, with good chances of seeing local specialities such as white-backed night heron, African finfoot and fairy blue flycatcher.
2. Mount Kupe, Cameroon
For the birds: Montane forests which, although suffering from human encroachment and timber extraction, still support a variety of birds. Around 330 species have been seen around Mount Kupe and in the 3000ha of surrounding forest.
For the birders: A total of 27 bird species are restricted to the montane forests of western Cameroon, Bioko and eastern Nigeria. Fifteen of these have been recorded in the Mount Kupe forest and two of them were first described from the mountain: the white-throated mountain babbler and the Mount Kupe bush-shrike. Other key species in the area include grey-necked picathartes, green-breasted bush-shrike, Monteiro's bush-shrike and Bates's weaver.
3. The ocean off Cape Town, South Africa
For the birds: Warm coastal waters mix with the cold Benguela Current, bringing nutrient-rich waters from the south. Strong winds create upwellings that force these nutrients to the surface, where they sustain a thriving food web. In addition, trawlers provide a constant source of fish for pelagic birds.
For the birders: A good chance of seeing white-chinned petrel, sooty shearwater, Cape gannet and Sub-Antarctic skua. The range of species is highest in winter, when you can also see southern and northern giant petrel, Pintado petrel, Antarctic prion and Antarctic tern. Shy, black-browed, Atlantic and Indian yellow-nosed albatrosses can also be seen. Occasionally, rarer varieties of albatross, like wandering, southern and northern royal, are sighted.
4. Djoudj NP, Senegal
For the birds: Despite experiencing desertification, Djoudj is like an oasis in the Senegal River Delta and forms one of the main habitats for migratory birds in West Africa.
For the birders: Djoudj hosts about three million birds per year from 366 species, including huge numbers of garganey, shoveller and pintail. Such is the abundance of birds that over 70,000 were ringed in the park in just two years.
5. Muchison Falls NP, Uganda
For the birds: A dense stand of papyrus near the base of the Falls.
For the birders: Murchison Falls is the best place in the world to see the shoebill - an incredible stork-like bird with an enormous boat-shaped beak. A launch makes regular trips 11km upstream to the spectacular Falls, where the Nile is forced through a gap just 10m wide. Below the Falls there is a narrow strip of papyrus regularly inhabited by two pairs of shoebill.
6. Kruger NP, South Africa
For the birds: An area of 2,000,000ha in the eastern Transvaal lowveld.
For the birders: Of the six Wilderness Trails that can be explored on foot with rangers, the northern sandveld areas of Pafuri and Punda Maria are particularly favoured by birders. Target species include Mashona hyliota, Bohm's spinetail and Dickinson's kestrel.
7. Bale Mountain NP, Ethiopia
For the birds: Ranging in altitude from 1500-4300m, the park supports many habitats, the most impressive being the high Afro-Alpine grasslands of the Sanetti Plateau.
For the birders: Target birds include the endemic Roguet's rail, spot-breasted plover, Abyssinian longclaw, wattled crane and, in winter, the imperial eagle.
8. Caprivi Strip, Namibia
For the birds: Blanketed in broad-leafed woodland and well-watered by the
Okavango and Zambezi Rivers, the Caprivi Strip supports a wealth of birdlife -particularly where flood plain and forest meet in areas like Mahango Game Reserve or along the Kwando River.
For the birders: Targets include slaty egret, coppery-tailed coucal, Luapula cisticola, African skimmer, rock pratincole, white-backed night heron and Pel's fishing owl, as well as endangered species like the black-cheeked lovebird, Souza's shrike and sharp-tailed starling.
9. Bwindi Impenetrable Forest, Uganda
For the birds: Lying in the rugged Kigezi Highlands near the borders with Rwanda and the Democratic Republic of Congo, this rich forest habitat is spread over a wide altitude range (1190-2600m). For the birders: No fewer than 23 of Uganda's 24 Albertine Rift endemic species are found here, including Kivu ground-thrush, Oberlaender's ground-thrush, dwarf honeyguide, Lagden's bush-shrike and Chapin's flycatcher. Globally-threatened species include African green broadbill and Shelley's crimsonwing.
10. The Rift Valley Lakes, Kenya
For the birds: A chain of alkaline lakes, supporting blue-green algae on which huge flocks of flamingo feed.
For the birders: Lake Nakuru has probably done more than any other place to promote birding in Africa. It is possible to see up to 1,400,000 lesser flamingos here, along with 9000 greater flamingos and other species such as sacred ibis and African fish eagle. Steaming Lake Bogoria has another flock of flamingos, while Lake Baringo offers a superb opportunity to stroll around the lakeshore and through woodland and savannah where numerous species can be seen, including Hemprich's and Jackson's hornbills.
Bird Brain
Four ways to improve your birding skills: Make sure you have a good bird identification guide. There are numerous books available, all with excellent illustrations. To find the best guide for your destination, go to www.nhbs.com Swot up on bird calls by listening to one of the many CDs and cassettes on the market. Using these recordings to attract a bird to you should only be undertaken in moderation to avoid unnecessary disturbance.
Use local bird guides to show you around. In many African countries there are local birdwatchers who will help you to find birds.
Copyright © Travel Africa Magazine