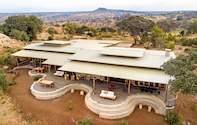 Lemala Mpingo Ridge in Tarangire National Park is the kind of Tanzania safari lodge where the views are spectacular and the game viewing is excellent. The friendly staff will also make you feel right at home.
Why We Love it and You Will Too
The views are spectacular, the rooms superb and the exceptionally friendly staff will make you feel at home.

Stylish rooms? Check. High-end lodge amenities and superior food? Double check. This is that luxury Tanzania safari you've been dreaming about.

Nothing prepares you for the view at Lemala Mpingo, not the reviews, nor the pictures. Take ten strides across the bar to the deck, and suddenly, the world will open in front of you across Tarangire National Park.

Lemala Mpingo Ridge advocated a commitment to sustainability. No plastic bottles are used, and greywater from the rooms is recycled daily. They're also big on solar energy.

Spend your afternoons on a game drive or relaxing on the daybed indulging in a siesta, waking only to the soft sounds of grazers meandering through camp.
Your Tarangire Safari Lodge Experience
Lemala Mpingo Ridge is perfectly positioned atop Mpingo Ridge in Tarangire National Park. Being the sixth largest park in the country, it sits slightly off the main Tanzania safari circuit, making it a terrific place to go off the grid, and avoid the crowds.
Its an exquisite slice of wilderness heaven, with rolling green hills, woodland areas and rivers attracting families of elephants and a bounty of birdlife. Its chunky baobab trees also characterise it. Game drives from this Tarangire safari lodge are eventful and varied. You'll likely see a generous smattering of elephants, warthogs, zebras, giraffe as you drive from the airstrip on your arrival day. Yes, the animal sightings are that good!
Lemala Mpingo Ridge is a beautiful lodge blending seamlessly into its surrounds. The views are out of this world, and on clear days you can even see Mt Kilimanjaro and Mt Meru rising in the distance. The main area is an airy structure featuring a lounge, bar and indoor and outdoor dining areas, leading out to the main viewing deck. There is also a rim-flow pool and private spa on-site, but that's only half of the best part of your stay…
Each of the tented suites has been carefully positioned to maximise not only the glorious views over Tarangire National Park but also to take advantage of the cooling breeze. They feature en-suite bathrooms, private decks, and sunken outside lounges (great for a siesta). A special feature is the private outside bathtub — perfect for soothing the soul and washing away the African dust after a day out game viewing.
At Lemala Mpingo Ridge, you will enjoy a real sense of wilderness paired with excellent game viewing. It's a standalone destination and a top-notch place to kick-start a safari combining the other Lemala properties located in the Ngorongoro Crater and Serengeti.