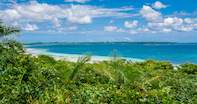 Remote, rugged, untamed, filled with a multitude of wild animals and exquisite scents, this aptly describes this Tanzania bush and beach safari.
The Selous Game Reserve, the oldest and largest game reserve in Africa. Combine your safari adventure with Pemba Island; with its deserted powdery white seemingly endless beaches stretching along a band of blue ocean, a lingering aroma of spice in the air, and you have the perfect bush and beach safari pairing.
Bush and Island Experience
This Bush and Island safari is especially for someone looking for a luxurious secluded yet exciting safari experience. The Selous is part of the southern safari circuit, with vast expanses of reserved land full of game, offering near exclusive game viewing opportunities. It is remote, wild, untamed with high concentrations of elephant and wild dog; it also supports large buffalo herds and many lion prides. Pemba Island maybe less developed than its big sister Zanzibar but has some genuinely breathtaking exquisite resorts that embrace the peaceful nature of the island.
Highlights
The rare chance to see wild dogs in their natural habitat
Explore the Selous Game Reserve on foot, by boat and on game drives
Stay in an area known to be in the home range of three prides of lion and many territorial leopards
Start your safari at sunrise and enjoy bush breakfasts surrounded by game
Relax in barefoot luxury on Pemba Island and absorb breathtaking views of the Indian Ocean
Take an underwater safari, on scuba or snorkel, on some world class reefs and walls.
Day 1: Arrive in the Selous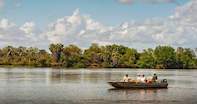 At Julius Nyerere International Airport, Dar es Salaam, board your plane for the Selous Game Reserve. As you land, your guide will be there ready to transfer you, by road to the camp, which overlooks the Great Ruaha River. This luxurious camp is in an isolated part of the Selous and ensures sensational game viewing opportunities.
Accommodation is in one of the palatial villas, sprawled along the banks of the Great Ruaha River. These luxurious air conditioned partially tented villas offer a comfortable cool oasis. Each villa has a private deck with plunge pool and outdoor rock feature shower, offering panoramic views that ensure you won't miss any animal sightings, even when you're in camp. In the afternoon start your adventure with a boat safari, a great way to unwind, relax and view the fantastic birdlife and wildlife, ending with a romantic sundowner on the river's edge before heading back to camp for a gourmet a la carte three-course dinner.
Day 2 - 3: Safari in the Selous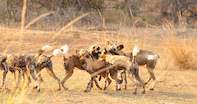 Set out at sunrise with a bush breakfast on a game drive and search for the three resident lion prides and territorial leopards found close to the camp. Travel further afield, there are no time or distance constraints, in pursuit of the wild dogs.The landscape is varied with diverse habitats suiting a wide variety of game. There are Miombo woodland, ravines, open plains (known as Little Serengeti), lakes and rivers. The vehicles are able to go off road, so that following the wild dogs or elusive leopard is possible, even when they veer off track and dive into the bush.
Go on late afternoon drives and find a great lookout spot for sundowners and snacks next to one of the myriad of impressive lakes. Walking safaris and boating trips are also available and make for a novel way to explore the area and see game.
Bush dinners served under the stars makes dining a special event. You can even dine in your villa if you prefer a more private affair.
Day 4 - 10: Pemba Island, Tanzania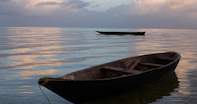 After a final morning game drive, walk or boating safari it's time to head out to the airstrip to board your flight to Pemba Island, Tanzania. As you land, around mid-afternoon, a resort representative will be there to meet you and escort you to the boat for your ultimate destination on Pemba Island.
Remote, accessible only by boat, this charming barefoot paradise is home for the next seven nights.
Your bungalow suite has an extensive private deck with a plunge pool, perfect for relaxing and reading in solitude. Sit with your feet in the sun-kissed sand looking out to the azure blue Indian Ocean, with the gentle sea breeze on your face and enjoy the delectable fresh seafood, fruit and vegetables, all sourced locally, in a fusion of Swahili and international cuisine.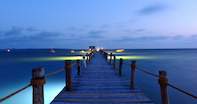 The scuba diving, snorkelling and deep sea fishing on Pemba is world renowned for its excellence. With the in-house dive centre planning dives or learning how to scuba couldn't be easier. Game fishing in the Pemba Channel is any angler's dream, striped marlin, yellowfin tuna and broadbill swordfish are all waiting for your lure, and the chef is more than happy to cook your catch for you.
Lazing on a pristine beach, spa treatments, sunset dhow cruises, kayaking and dolphin safaris are all activities available on this island retreat.
Kick off your stress and worries with your shoes, and go barefoot in paradise.
Day 11: Farewell Tanzania
Unfortunately, the real world awaits, it's time to bid a fond farewell to the bush and beach as you board your flight to Dar es Salaam for your onward travel plans.
Included
Return flights from Dar es Salaam, Selous, Pemba Island, Tanzania
Shared road transfers to and from airports
3 nights luxury air conditioned tented villa accommodation at Azura Selous
7 nights luxury cottage suite accommodation at Fundu Lagoon
All meals including breakfast, lunch and dinner
Local drinks including teas/coffees, soft drinks, local brand beers, local spirits and house wines
Personalised tailor made safari itinerary including game drives, guided walks and boating safaris when possible in the Selous Game Reserve
Unguided mangrove canoe safari, snorkelling equipment, village treks on Pemba Island
laundry
All meet and greet services
Entrance and conservation fees for all reserves as per itinerary
Not Included
Premium drinks and champagne
Optional activities, spa treatments and all other extras to be settled direct