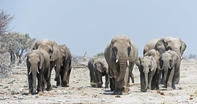 © Peter Delaney
The Ovambo name - Etosha - means 'place of dry water' or 'huge white area' depending who you ask. Either way it aptly describes the vast shallow salt pan that is parched and cracked for much of the year.
It used to be a lake the size of Holland, but now glints a silvery bright white from salt crystals across its entire surface. As you look across its shimmering surface, objects real or imaged distort in a hazy mirage, and you are not sure if you are just imagining that herd of Oryx or whether they are real.
This seemingly inert pan, bursts into life with the onset of rains, which may or may not arrive between January and March. Up to a metre (3 feet) of water transforms the dusty surface into a slushy, algae-rich soup which attracts thousands of birds, particularly flamingos.
The pink mist that descends upon the warm shallow lake may contain up to a million Flamingos, and they set to work feeding and breeding while the going is good. The sparsely vegetated woodland savannah and scrubland also erupts with rich grasses and small yellow flowers, providing the perfect conditions for the Antelope and Mountain Zebra to give birth.

Animals abound in great numbers and herds of 50 Elephants are not unusual. When in a hurry to get to a waterhole, Elephants often walk right down the middle of the road and you would be wise to remember that they are much bigger than you, and get out of the way.
Desert dwelling Oryx are here in large numbers plus the impressive curly horned Kudu. It is common to see a mixture of four or five different species of animals grazing together including, several different Antelopes, Mountain Zebra and Wildebeest.
Lions and Hyenas are great rivals for a meal, but whoever ends up with the 'Lions share', must watch out for nimble silver-backed Jackals who sneak in and steal what they can. Etosha also contains endangered Black Rhino and unusual species like black-faced Impala and tiny Damara Dik Dik.

Etosha has dozens of waterholes, some of which are natural, while others are artificially supplied from nearby boreholes. In years of drought these are the only sources of water keeping the animals alive. Dry season game watching (July to September), is very rewarding as a veritable 'Noah's Arc' of different species gather to await their turn at the waterhole, with Elephants dominating the scene.
Climate
Game is easily seen in the cool dry months from May to September, while bird watching peaks during the wet season from November to March. Temperatures range from 31°C (88°F) to 13.7°C (57°F).
Dry Season
No rain is expected from July to September, and October and November are neither wet nor dry but pleasantly in between.
Rainy Season
About 358mm (14 inches) of rain falls per year, mostly in January, February and March. This is also the hottest time of the year and humidity is high.
Lodges of Etosha
Safari Lodges in Etosha Namibia