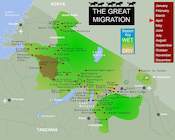 Follow the Great Migration during the month of April on an East African safari.
Migration Serengeti, Tanzania
As the grass becomes depleted in the south the great herds are starting to move into the woodlands west of Seronera towards the western corridor.
Large numbers of griffon vultures follow the herds waiting for the old and weak to fall.
Thunderstorms are becoming common as the long rains are starting. It is thought that the wildebeest follow the lightning and thunderstorms in search of water.They continue eating as they move, and are scattered all across the plains, generally west of Ndutu. One day they will be all around and the next they could all have moved off, like a single entity.
As the rains start to fall the wildebeest canter off towards the storms, searching for water. Sometimes after a day or two they return if the promise of water did not materialise.
Some camps are closed during this time, as the roads become impassable due to the heavy rainfall.
Temperature: 16C to 28C
Rainfall: average 155 mm
Migration Masai Mara, Kenya
The rain brings new life to the plains, and with the rain comes an abundance of game looking for the fresh grass. The Loita Hills migration makes game drives in the Mara area fantastic as thousands of resident Kenyan wildebeest and zebras flood the area, seeking the new growth.
Heavy downpours and thunderstorms give the Mara a dramatic backdrop, as the new grass seems to spring up before your eyes. The Mara is getting ready for the great migration.
Some camps are closed due to the heavy rainfall.
Temperature: 13C to 26C
Rainfall: 210 mm