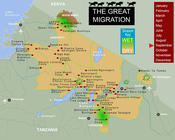 Follow the Great Migration during the month of September on an East African safari.
Migration Serengeti, Tanzania
The Serengeti is starting to warm up and the plains dry out. The herds are still spread out across the Northern section of the Serengeti pushing and shoving to cross the Mara River to get to the grasses on the Masai Mara side of the river. However, it is also quite common to see the herds cross the river to the north one day, only for them to undergo the terror and fright to cross to the south the next day.
Temperature: 15C to 28C
Rainfall: average 55 mm
Migration Masai Mara, Kenya
The great herds are still entering the Mara having to cross the mighty Mara River. Watching the river crossings can be spectacular, watching the wildebeest gather the courage to tackle the elements and enter the unknown is something very special. Witness the confusion, fright and panic, the crocodiles lunging and the cats ready to pounce from the bushes, makes for a sensational safari experience.
Temperature: 12C to 27C
Rainfall: 95 mm