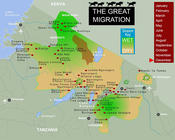 Follow the Great Migration during the month of December on an East African safari.
Migration Serengeti, Tanzania
The heavily pregnant antelope and Zebras are back in the south of the Serengeti and Ngorongoro Conservation Area, feeding on the sweet grasses of the Serengeti Great Plains, fattening up ready for calving the end of January to beginning of February. The animals are spread all across the plains and enjoy a respite before the whole migration cycle begins again.
Temperature: 16C to 28C
Rainfall: average 105 mm
The end of the short rains.
Migration Masai Mara, Kenya
The great migration has left the Mara area, however the Lolita Hills resident antelope are still all around and grazing on what is left of the grass. The short rains are falling and so new shoots are appearing for these thousands of resident antelope.
The lions are preparing their cubs to become independent and to hunt. The cheetah are stalking the plains looking for something for their juvenile cubs to practise hunting on. Life continues on the Mara plains, with daily challenges for both the prey and the predators.
Temperature: 12C to 27C
Rainfall: 115 mm
Short rains continue