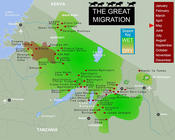 Follow the Great Migration during the month of May on an East African safari.
Migration Serengeti, Tanzania
In May, all the Serengeti wildebeest are moving north, seeking fresh grazing and water. The area to be is Moru Kopjes and west of Seronera, where vast moving columns, containing a mind boggling number animals are on the move. Wildebeest by the thousands are joined by hundreds of dazzling zebra, plus Thompson and Grant Gazelles all join in the search for greener pastures.
The Grumeti river, is going to be the first real obstacle that this gigantic mass will encounter, and lying in wait are the huge crocodiles, whose last meal was probably a year ago.
May is also the time the rain starts to slow in the Serengeti and love is in the air - the rutting season is about to start. Rams, bulls and stallions cavort in front of the ladies and compete with one another in the hopes of gaining the mating rights for this season. Watch the wildebeest males lock horns as they try for dominance. Or the zebra stallions as they chase away rivals, kicking and biting trying in vain to protect their harems.
Temperature: 16C to 27C
Rainfall: average 90 mm
Long rains begin to slow down in the Serengeti.
Migration Masai Mara, Kenya
The rains continue in the Mara usually in the late afternoon or at night. The grass is growing longer and longer preparing for the annual onslaught of the migrating hordes. The Mara is a stunning green with some amazing game viewing, at this time of year.
Rutting season is here, and seems to peak around the full moon in May and June. The males show off their prowess with their fighting antics, as the females calmly watch and choose which one is the one that they will deign to mate with.
Some camps are closed due to the rainfall.
Temperature: 13C to 25C
Rainfall: 155 mm