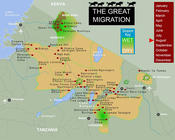 Follow the Great Migration during the month of August on an East African safari.
Migration Serengeti, Tanzania
The Serengeti Great Plains are starting to dry up. The wildebeest continue to move northwards seeking greener pastures. The elephant and buffalo are all in the forested areas in the Grumeti & Ikorongo regions.
Many wildebeest cows are looking for their lost young ones, often crossing backwards and forwards the dangerous rivers in the hope of being reunited, until finally they meet up with another huge herd and are impelled to move on.
Temperature: 15C to 27C
Rainfall: average 30 mm
Migration Masai Mara, Kenya
More and more wildebeest, gazelles and zebras are arriving, filling the plains with grunts and whinney's as each group tries to stay with their youngsters. The wildebeest have an uncanny way of continually moving and feeding ever looking for the freshest grass, whilst on the lookout for the ever present predators. Cheetah, leopard and lion are having a field day.
Temperature: 11C to 25C
Rainfall: 80 mm