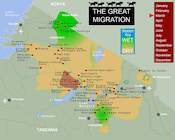 Follow the Great Migration during the month of March on an East African safari.
Migration Serengeti, Tanzania
As most of the wildebeest calves are now born the herds are gradually starting to move west across the plains. As the grass is eaten so the herds start to congregate, ready to move to fresh pastures.
Temperature: 16C to 29C
Rainfall: average 130 mm
Start of the long rain season in the Serengeti.
Migration Masai Mara, Kenya
The savannah is drying up, and the last of the wildebeest giving birth. These late comers are far more vulnerable to the predators, so there are still plenty of predators around.
Temperature: 12C to 27C
Rainfall: 145 mm
The rain clouds are gathering, signalling the start of the long rainy season. It is still a good time to visit Kenya, as generally the days are still warm and mainly dry.