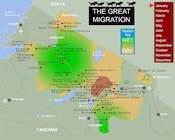 Follow the Great Migration during the month of January on an East African safari.
Migration Serengeti, Tanzania
The heavily pregnant wildebeest and zebras are feeding on the short plains grass in the south and east of Seronera, around Ndutu and in the north of the Ngorongoro Conservation Area.
By late January to February there is a wonderful spectacle as thousands of wildebeest and zebra calf. The calving season is just beginning, and the big cats and other predators are getting ready to feast.
Temperature: 16C to 29C
Rainfall: average 80 mm
January is usually dry between the short and long rains. However the weather as always is unpredictable and short showers may occur.
Migration Masai Mara, Kenya
The savannah is green and thousands of resident wildebeest are heavily pregnant and are ready to calf. There are a lot of newborn gazelles making for easy prey for the big cats. The big cats and hyenas are getting ready for their annual feast.
Temperature: 12C to 28C
Rainfall: 95 mm
Generally the Masai Mara is pleasantly warm with cool nights, all year round.