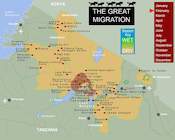 Follow the Great Migration during the month of February on an East African safari.
Migration Serengeti, Tanzania
Wildebeest and zebras are calving on the plains in the south and east of Seronera, around Ndutu and in the north of the Ngorongoro Conservation Area.
February, now calving season is in full swing, with thousands of wildebeest and zebra being born every day. You can see the plains come alive with calves; first standing on wobbly legs; and then running all within minutes of being born. Be prepared for some heart ache as well, the predators move quickly onto the newborn calves for their annual feast. Mother Nature is revealing what the circle of life means in full gore and vigour.
At the edge of the short grasses is where the highest concentration of predators congregate, waiting to seize any vulnerable calves.
The plains herd animals give birth en-mass in a two to three week period creating a glut for the predators, thereby enabling more to survive those crucial first few weeks. Wildebeest usually give birth in the middle of the herd, forming a moving barricade around them trying to limit the amount of damage a predator can do.
Temperature: 16C to 29C

Rainfall: average 100 mm
Start of the long rain season in the southern part of Serengeti.
Migration Masai Mara, Kenya
The savannah is drying up, yet thousands of wildebeest are being born daily. February is the favoured month of the big cats.
Temperature: 12C to 28C
Rainfall: 100 mm
Generally the Masai Mara is pleasantly warm with cool nights, all year round.