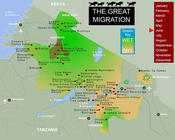 Follow the Great Migration during the month of June on an East African safari.
Migration Serengeti, Tanzania
The migration splits, with large groups heading due north of Seronera the majority though head, usually, further west. The Grumeti River is a stumbling block to the animals, they start to bunch up before crossing the river. Large herds all together can be seen in the western corridor of the Serengeti and Grumeti Conservancy.
Extremely large crocodiles lie waiting for the multitudes to arrive, having not eaten since the last migration a year ago, making for some fascinating game viewing, as you cheer on the wildebeest. The Grumeti River forms a series of channels and pools where the crocodiles wait, but there are also shallow areas where it is safer for the herds to cross.
Temperature: 15C to 27C
Rainfall: average 35 mm
Rains are about finished now, just a few showers.
Migration Masai Mara
The great migration truly begins now in the Masai Mara, with millions of wildebeest, gazelles and zebras leaving the Serengeti and entering the Mara, in search of greener pastures.
The Mara River is another stumbling block for the herds. Again they bunch up, looking for courage and fortitude to cross and try and outwit the waiting crocodiles. After all the rain, the river is now swollen and fast flowing, so not only do they have to contend with the hungry crocs, but also the water itself. It is such a dramatic, awe inspiring sight.
Temperature: 12C to 25C
Rainfall: 95 mm
Still some rainfall, but slowing down now