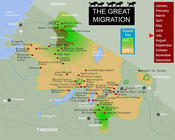 Follow the Great Migration during the month of July on an East African safari.
Migration Serengeti, Tanzania
The great wildebeest migration continues moving northwards, often spreading out as they move. Grumeti Conservancy, Ikorongo Game Reserve and Northern Serengeti is the place to be to see the thousands and thousands of plains game, spread across as far as the eye can see. Of course, the predators like lion, hyena and cheetah are never far away from the herds either.
Temperature: 14C to 26C
Rainfall: average 15 mm
Migration Masai Mara, Kenya
The great migration meets up with the Lolita Hills migration flooding the Masai Mara and its conservancies in a sea of black moving mass of wildebeest, all vying for the short green grassy plains. Interspersed with thousands of flashes of black and white zebras and brown gazelles are the prowling cats, the plains are alive with action.
Temperature: 11C to 25C
Rainfall: 60 mm